LOOP – discover Québec's literature in public space!
LOOP is an interactive art installation inspired by Québec's literature.

Come and visit the media experience to discover 12 literary works from Québec translated into German and showcased on the occasion of Canada´s Guest of Honour presentation at the Frankfurt Book Fair 2020/2021.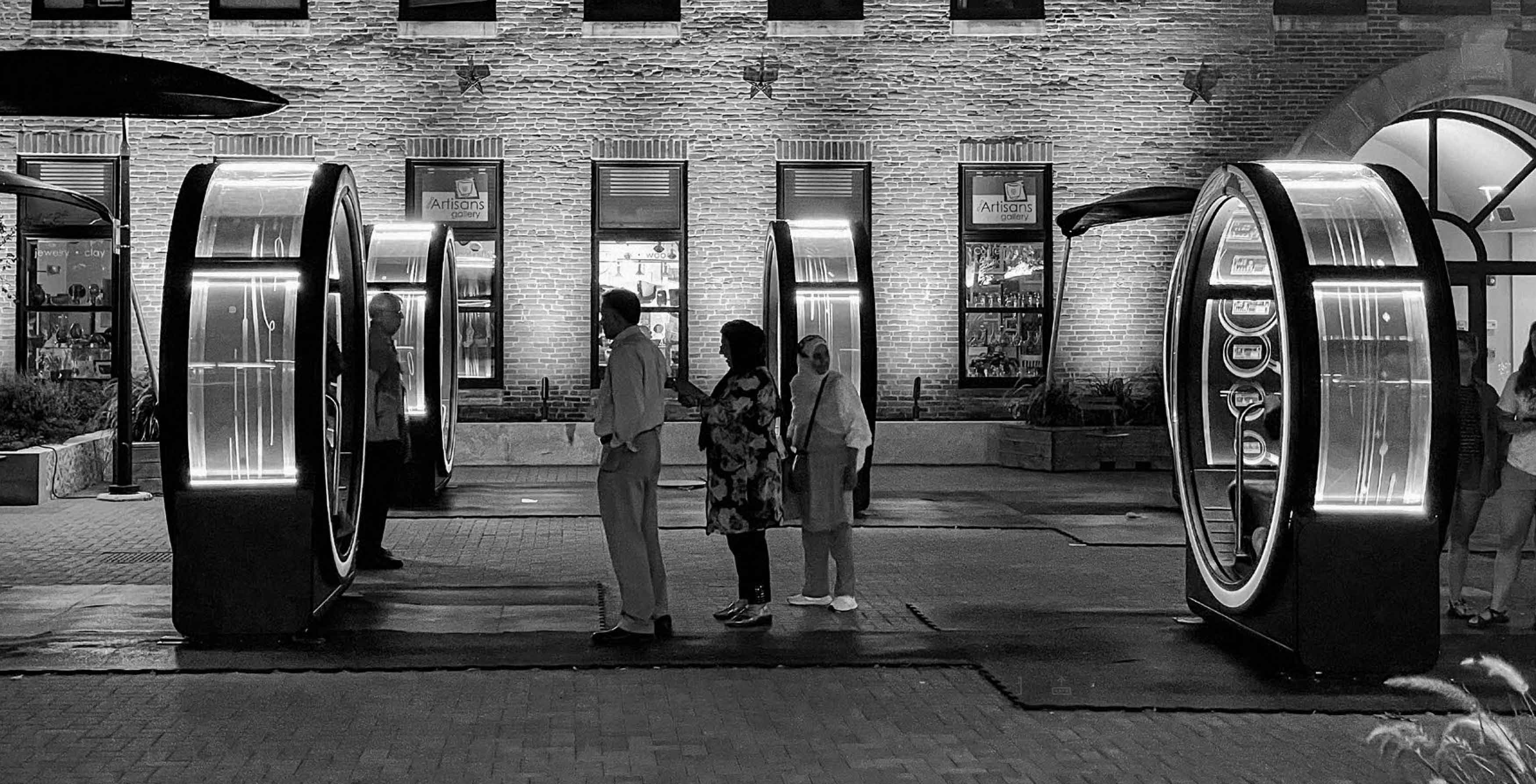 Twelve giant cylinders
The artwork consists of twelve giant cylinders, in which the audience members are invited to discover how their own movements turn a series of still images into an animation enlightened by its real time generative soundtrack.
The images, tinted by a strobe, are reminiscent of the earliest movies. The speed of the experience is all determined by how fast you move the bar.
LOOP is an interactive work that plays short flipbookstyle movies inspired by Québec literature translated into German. LOOP takes the old-school, 19th century technologies of the zoetrope, music box and handcar, and fuses them into a retro-futuristic motion picture machine.
Québec's artists in Frankfurt
The presentation of LOOP, with illustrations inspired by Québec literature, is an initiative supported by the government of Québec. It was designed to showcase Québec at the 2021 Frankfurt Book Fair, where Canada is Guest of Honour. LOOP is presented in Frankfurt in collaboration with NODE Forum for Digital Arts.
The installation will be presented in Frankfurt am Main,
at the Frankfurt Book Fair and in the city center:
October 20 – November 1, 2021 • Rathenauplatz
October 20 – October 24, 2021 • Frankfurt Book Fair, Agora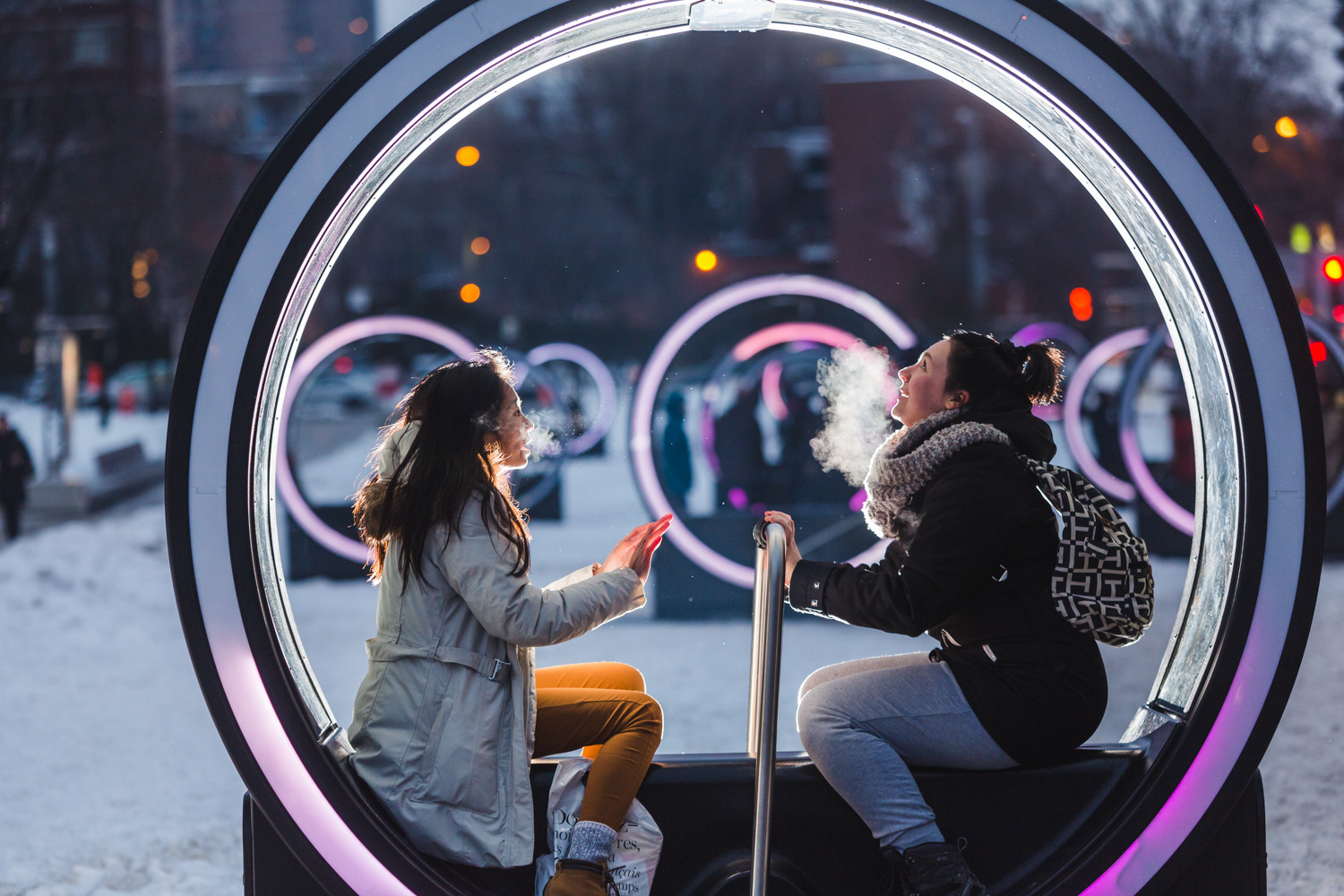 &nbsp
The 12 literary works presented in LOOP are available at the Hugendubel bookstore in Frankfurt (Filiale Frankfurt Steinweg – an der Hauptwache).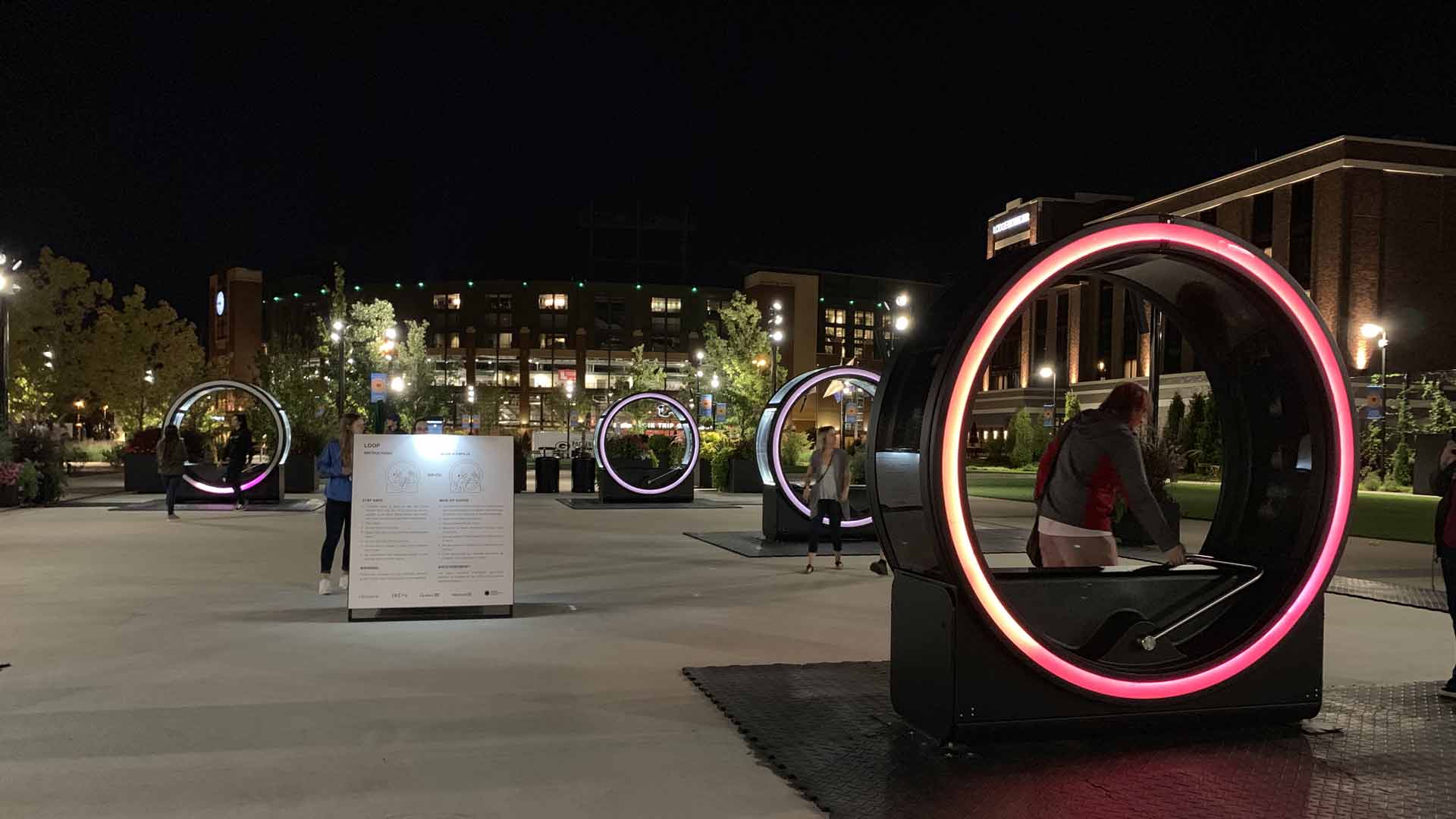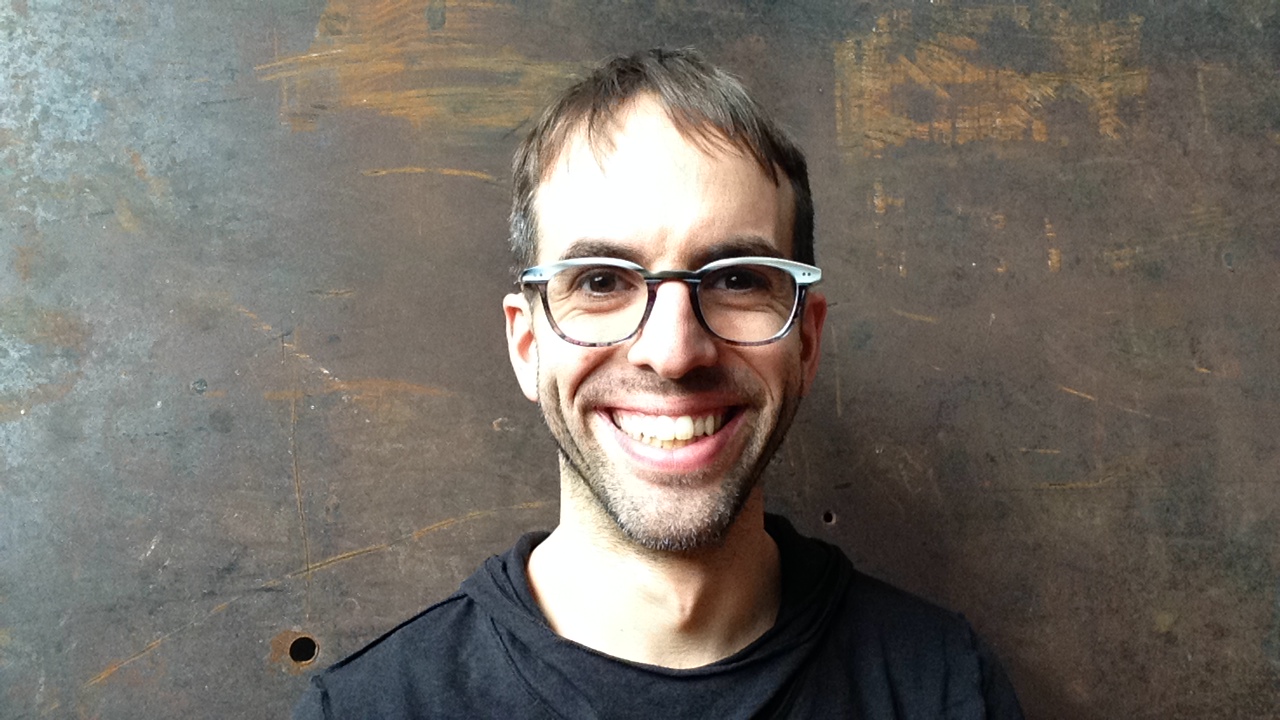 Olivier Girouard
Montréal, CA
ekumen.com
Olivier goes off the beaten path to find inspiration for his works: a link between two co-occurring ideas; a sound profile undergoing a transformation. He strives to reinvent our relationship with hearing, by working with artists in dance and visual arts.
As a producer and promoter of audio works, he is the artistic director of Ekumen. He has won several awards, including first prize of the Hugh Le Caine Prize (2008) presented by the Socan Foundation, and the JTTP first prize (2009).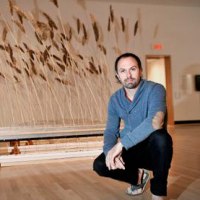 Jonathan Villeneuve
Québec City, CA
jonathan-villeneuve.com
Jonathan Villeneuve is an artist with DIY sensibilities who creates poetic machines by assembling familiar materials and giving them new functions. His works move, emit light and make sounds, allowing viewers to come to their own conclusions about the device's imaginary function. He is a graduate of the media and visual arts program at UQAM (2006) and of the MFA/Open Media program at Concordia University (2009). His solo work has been presented regularly in Québec and elsewhere in Canada. As well as participating in numerous collaborative digital-art projects presented at festivals and events in Europe, in June 2014 he presented his solo work at the International Triennial of New Media Art at the National Museum of China in Beijing. In September 2015, he unveiled a monumental digital public artwork, Le grand bleu du Nord, created for the new multi-purpose arena in Québec City.
OTTOBLIX
Québec City, Canada
ottoblix.com
Founded in 2004, the company has more than a decade of experience with multidisciplinary projects. Ottoblix has built a loyal clientele by being creative, attentive to client needs and by creating custom teams for each project.
Concept
Olivier Girouard & Jonathan Villeneuve and Ottoblix
Collabrators
Industrial design: Generique Design
Electronics & programming: Thomas Fredericks
Technical support: Adsum Lab
Mechanical consultant: Jérôme D. Roy (Terrafirma)
Audio programming: Dominic Thibault
Production
Quartier des Spectacles Partnership & Ekumen (Montréal, Canada)
Frankfurt production / NODE team
Artistic direction: Jeanne Charlotte Vogt
Project management: Johannes Scherg
Production: Andreas Behl
And our team of visitor guides.
The presentation of LOOP in Frankfurt is a collaboration of: