Call for one German and one Iranian media artist
TADAEX/NODE exchange program starts for its next edition 2016/2017.
NODE Forum for Digital Arts, TADAEX Tehran Annual Digital Arts Exhibition and the cultural department of the german embassy in Tehran invite Iranian and German media artists to apply for artistic residencies in Frankfurt, Germany and Tehran, Iran.
&nbsp
---
Call is closed – Thank you to all Applicants!
---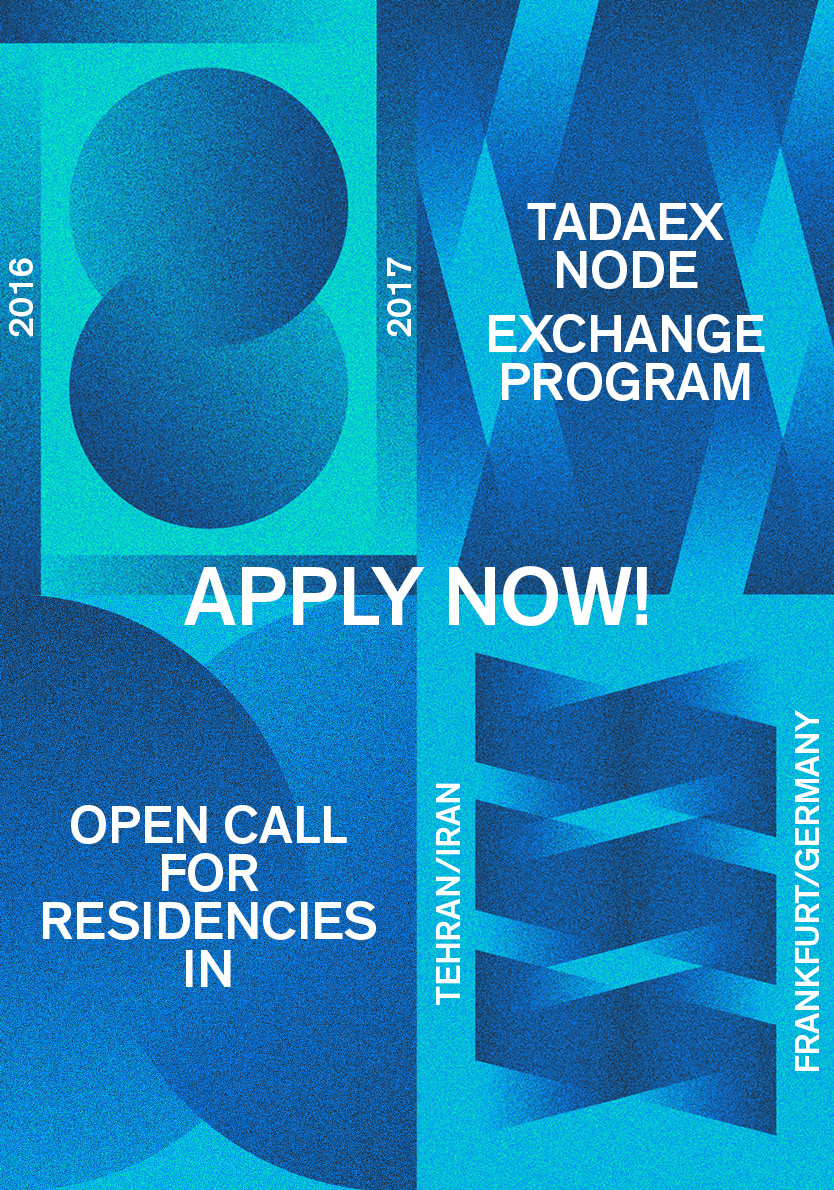 Goal of the TADAEX/NODE Exchange Program is to establish an exchange between the media arts scenes in Iran and Germany, and to connect the communities that have emerged around each festival.
We will invite these two artist to take part in in two residencies prior to the respective festivals. Both residency periods will last 3 weeks in which both artists will be present in the host cities Tehran (2016) and Frankfurt/Main (2017), get to know the local digital arts scene and take part in the festival activities. The artists are encouraged to share their working experience and collaborate on projects that will be presented in the context of TADAEX and NODE17.
TADAEX/NODE exchange program is supported by:


&nbsp
Residency at TADAEX
2016 – Teheran, Iran
07.-30. September 2016
TADAEX 22.-30. September 2016
You will live and work for two weeks at Kooshk Residency Space in Tehran and be part of TADAEX. During your stay, you will collaborate on the creation of an artwork, which will be presented to a local and international audience at TADAEX. Travel, accommodation and an artist fee will be provided by the hosting institutions. Intensive collaboration and on-site research are strongly encouraged.
Residency at NODE
2017 – Frankfurt, Germany
NODE17 Summer 2017, 
precise dates will be announced soon!
Together, you will work at the production and exhibition venue basis Frankfurt e.v. and be part of NODE17 Forum for Digital Arts. You are encouraged to continue the collaboration that has been initiated in advance to TADAEX and get the opportunity to show the resulting work to a local and international audience at the festival. Travel, accommodation and an artist fee will be provided by the hosting institutions.
Application
Apply here Call is closed
Your application should include:
1. Motivation (3.000 characters max.)
Your personal interest in the residency,
your expectation regarding the collaboration with your partner,
an idea for a project you would like to work on (a short outline will do),
and a short statement on how you relate your work to the context of TADAEX/NODE.
2. CV
3. Portfolio
A PDF, 1–3 works, 6 pages max., including descriptions of the works and links if the work contains media such as sound, video, movement etc. in the PDF.
Schedule
Application Deadline: The application for the joint TADAEX 2016 and NODE17 exchange program must be submitted until June 30th, 2016.
Jury Selection: July 15th, 2016
We provide
Work space
Travels + accommodation
Tech support and equipment (provided by the festivals)
Artist fee including production budget (1.000 € p.p.)
Jury
Florian Egermann, Jeanne Charlotte Vogt & Alexandra Waligorski (NODE)
Ali Phi (TADAEX)
Tooraj Khamenehzadeh (Kooshk Residency)
Farnaz Ghorbani Monhasser (Cultural department of the german embassy, Tehran)
Amir Bastan and Georg Scherlin (artists in residents 2014/2015)
Questions?
NODE – Verein zur Förderung Digitaler Kultur e. V.
Gutleutstrasse 96 / 60329 Frankfurt / Germany
c/o Jeanne Charlotte Vogt
jeanne@node-forum.org