Mentoring #BeyondDigital
A conspiratorial and scene-connecting mentoring program with Lauren Lee McCarthy, Angela Washko, Alla Popp and Jeremy Bailey, September - November 2021
The mentoring #BeyondDigital connects Hamburg (emerging) artists with international media artists. In this first prototype of the mentoring program, four tandems work together to exchange ideas on poetics and discourses of net performance art.
Attention: meet our mentors during the lecture event "Practice BeyondDigital" on Thursday 26th, 2021 at 6pm!
&nbsp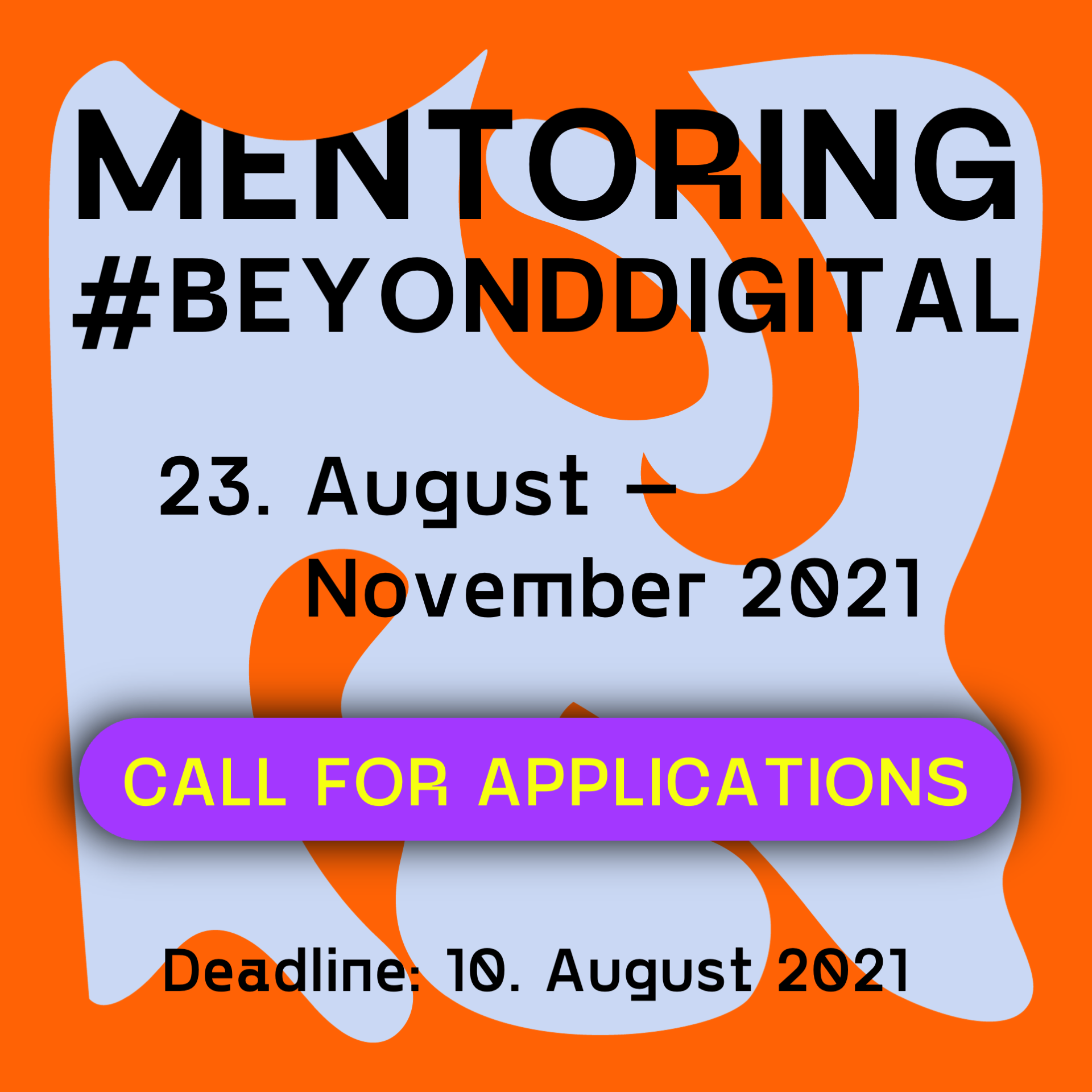 &nbsp
&nbsp
While digitization in the performing arts has exploded in the last year, many media artists* have long used digital space as a stage and material for their art. Since the emergence of the Internet, aesthetics have evolved, social spaces and arrangements have been interrogated and subverted, and questions of liveness and the role of the audience or user* have been considered.
The mentoring begins with a practical workshop in August 2021. Afterwards, the participants are invited to develop a net-artistic sketch or prototype in the company of a tech-savvy mentor from the media art scene. The results can be presented in the context of our partner festival Hauptsache Frei 2022.
Thus, instead of reinventing media art and unilaterally searching for translation possibilities from the stage to the screen, the mentees will get to know existing media artistic discourses and aesthetics in order to research interfaces and productive differences of theater and media art. The #BeyondDigital Mentoring sees itself as a networking tool and catalyst for interdisciplinary artistic research and the creation of new complicities between net art and theater creators.
&nbsp
What you can take away and what we offer you:
Networking with internationally renowned media artists* and the net and media art scene.
Networking with the Hamburg scene
Presentation opportunities in the context of Hauptsache Frei #7 and in the context of another event.
A honorarium or production budget in the amount of € 2,000 per person.
Mentoring will primarily take place remotely and online. However, the four-day introductory workshop will take place IRL, on-site at the Lichthof Theater, not online.
Application:
We are looking for four participants or mentees. The application form can be found here! The deadline for applications is August 10, 2021 and the selection of participants will be made by the mentors in consultation with the curator Jeanne Charlotte Vogt until August 15. For questions, email us at jeanne.charlotte.vogt@hauptsachefrei.de
What you should bring to participate in mentoring:
You can apply as an artist with a focus on performance or theatre work. Furthermore, you should:
Ideally, have time from August 23-26, 2021 to participate in the workshop as well as for individual and group talks in the period September – November 2021. We will coordinate dates together
English language skills for discussions in the group and with the mentors
Openness to new questions, artistic perspectives & methods
Interest in practical work with technology
Willingness to work in a team and share knowledge
Have access to a laptop that you can use to implement video teleconferences and participate in the hands-on workshop. If you need assistance or do not have your own computer, this should not preclude you from participating. Please contact us!
Bring questions, artistic ideas and methods that you would like to try out or discuss
Unfortunately, the offer cannot be offered completely barrier-free (especially language barriers)
Participation will mainly take place via video conferencing and working on your own computer. We are happy to accommodate your technical requirements, please contact us actively! For an upcoming edition we are looking for ways to reduce the program in its barriers.