&nbsp
Interview with the artists
"We are using a breath sensor, heart beat sensor, attention level sensor and a movement sensor, that drive the composition. We are playing with our real bio signals, revealing your inner feelings – you can't hide anything."
&nbsp
"Giving meaning to the data"
Complementary workshop on bodysensors
The workshop focused on incorporating bio-feedback data into complex real-time audio-visual systems for media performances.
Participants dived into the field of sensor signal analysis and strategies of how to make use of these technical nitty-gritties in an artistic way.
"How do you use this technology in performing arts to interact on the stage or to show invisible things?"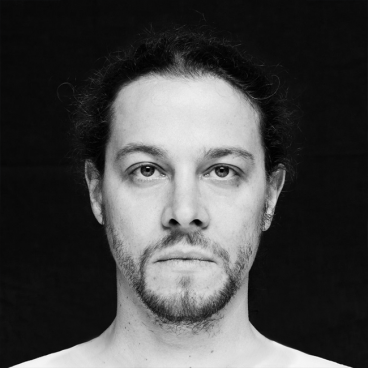 Antoni Rayzhekov
Artist, Creative Coder, Performer
Vienna, Austria
raijekov.cc
Antoni Rayzhekov is a Bulgarian theater maker, composer and new media hacker. He studied theater directing and acting at the Academy for Theater and Film Arts 'Krastyo Sarafov' – Sofia and jazz music improvisation – at the Vienna Konservatorium. He worked as a consultant in informational technologies for United Nations in Vienna and in the period 2008–2013 he established together with Emanuel Andel the vienna-based new media label 'THIS.PLAY' – focused on interaction design. Currently he is an independent artist and guest lecturer in Interactive media at the University for Applied Science, St. Pölten (Austria).