Investigating on the relationship between surveillance and private space
Rayzhekov's project '10VE' is a participatory musical biofeedback and movement composition for two actuators and an audience. It interconnects contemporary electronic music, performance and participatory art through technology.
The project started in 2014 by Antoni Rayzhekov and Katharina Köller within the ATALAIA Artes art residency, Ourique (Portugal) and was later i.a. performed in Frankfurt at NODE15 Forum for Digital Arts.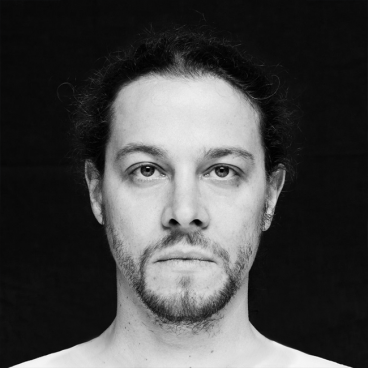 Antoni Rayzhekov
Vienna, Austria
raijekov.cc
Antoni Rayzhekov is a Bulgarian theater maker, composer and new media hacker. He studied theater directing and acting at the Academy for Theater and Film Arts 'Krastyo Sarafov' – Sofia and jazz music improvisation – at the Vienna Konservatorium. He worked as a consultant in informational technologies for United Nations in Vienna and in the period 2008–2013 he established together with Emanuel Andel the vienna-based new media label 'THIS.PLAY' – focused on interaction design. Currently he is an independent artist and guest lecturer in Interactive media at the University for Applied Science, St. Pölten (Austria).