Welcome to Shiraz
An Introduction by Artist Mohsen Zare
&nbsp
Shiraz, the town I grew up in, has been a wondrous place from times long bygone; full of gardens and bazaars and mystifying nights. A town of serene, fragrant springs, living here through the passage of days and seasons, your mind takes flight and frisks through the myriad of scents and scenes. There's always enough reason to "catch" a color, or morph into a motif. Shiraz, has always mothered art and nurtured artists. No wonder she was chosen to host, from 1967 till 1977, the Shiraz-Persepolis Festival of Arts. The first, and still – even by contemporary standards – the most grandiose of such events in the Middle East. Despite going on for only 11 editions, its lingering effects could still be traced in today's Iranian art scene. After the 1979 Islamic revolution though, it all changed. For everyone – Artists included. In a place as culturally rich as this, artistic talents naturally blossom en masse, but wither dry into their demise.
Few blossoms will grow into saplings, and fewer still will raise to be trees. There's a constant contrast between the intense yearning for art making, and the lack of teachers, resources and drive. Every day, a few more enthusiasts will leave the scene, not being able to make ends meet through art. Shiraz's art scene, or whatever's left of it, is built on the backs of those who persevered in keeping it alive generation after generation. The fruit of the labors of Herculean men and women throughout history.
There are names in this town's history which give shapes to notions like "artist", and there are still a few who're willing to live by that mantra, however harsh and unkind the circumstances. In talking about contemporary Shirazi art scene, the direct effect of the independent endeavors and endurance of a determined few is non-negligible. The curators of this show are the youngest amongst them.
&nbsp
Participating Artists
&nbsp
Zahra Abbasi
Marziye Alihoseini
Nahal Arian
Aghileh Ataei
Mozhdeh Azimi
Mohammad Bambayero
Maryam Dehbozorgi
Maryam Dian
Ali Forootan
Marziye Ghadimi
Mona Hadaegh
Mohamad Amin Haghpanah
Hanif Haghtalab
Ali Honarvar
Mahshid Mahbobifar
Parastoo Mohamadipour
Roya Mohseni
Haniye Mokarizadeh
Maryam Nargesi
Milad Noorani
Maryam Nowrozi
Soroosh Mohamadi Poyan
Elham Rajabi
Sedighe Saberi
Paria Shabani
Sara Shahosseini
Arefeh Shokraneh
Hasti Shokrzadeh
Sahar Taheri
Hojjat Vafayee
Mehrbod Farsi Zadeh
Mohsen Zare
Masoud Zare
Dar Al Hokoomeh
Mohsen Hazrati and Milad Forouzandeh founded Dar-al-Hokoomeh, a New Media art project in Shiraz, Iran, a year after graduating from Shiraz Art Institute with the vision of creating a space for emerging artistic practices.
Dar-al-Hokoomeh has hosted exhibitions, screenings, talks, lectures and workshops and has from its inception been at the forefront of the intersection of culture, art and technology within Iran and on an international level. Dar-al-Hokoomeh produces New Media events that are a chronological step in continuing an Iranian tradition of exploring media ranging from film to video and sound art. Not only through the exploration of the possibilities of New Media itself but also through combining this with an underlying depth, richness and humorous wit that is uniquely Shirazi. While outward looking and working on an international level, Dar-al-Hokoomeh is still firmly grounded in Shiraz, Iran and is inspired by the city's rich history in the fields of literature and art.
With the DAH project, Mohsen and Milad have managed to create a thriving and vibrant New Media art scene in Shiraz that is able to compete with Tehran and other centers of New Media around the world.
Dar-al-Hokoomeh has invited curators and artists and have hosted a number of events relating to technology but simultaneously asks visitors online and IRL questions about art, identity and (geo)politics in a serious yet playful manner.
Recently they have investigated the very nature of New Media with BitRates in 2014, curated by Morehshin Allahyari and Mani Nilchiani with a segment called GifBites curated by Daniel Rourke and in 2015 I myself co-curated with Morehshin Allahyari a project titled AP<P>ART where we investigated the use of apps in art making and how more or less limited access informs a regional practice and aesthetic. After four years of non-profit activities, through their merits and achievements, DAH Project managed to attract an exclusive sponsor, in the form of the Folder Foundation.
About Folder Foundation
Folder Foundation was established in 2017 by Ali Khadivar, an art investor and entrepreneur. It is an art sponsorship initiative focused on supporting and promoting emerging artists who are mostly – but not exclusively – active in the field of digital and new media arts. It aims to provide them with the education and the equipment they need for further developing themselves as artists. Furthermore, it plans on establishing a location-independent community of and for such artists, to facilitate the exchange of ideas, experiences, and expertise between them. The foundation also aims to explore the financial possibilities of the digital art market, and to help and guide digital and new media artists towards establishing a sustainable career out of their craft.
The Folder Foundation is the first in a series of planned projects, initiatives, and organisations founded by Khadivar in order to explore artistic, social, cultural, educational, technological, and the financial possibilities and intricacies of the digital, post internet era. Upon completion, this inter-related network of organisations are supposed to feed off of, and support each other in order to find optimal ways of integrating digital based cultural and technological products into everyday human life.
For its first major move towards attaining the goals described above, The Folder Foundation has sponsored this group show by emerging Iranian digital artists at NODE Forum For Digital Arts 2017, in collaboration with its main partner, the Dar al Hokoomeh Project.
&nbsp
The Makers and Artists
&nbsp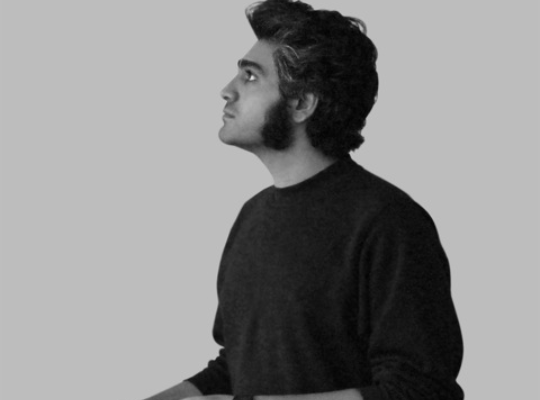 Milad Forouzandeh
Shiraz, Iran
dahproject.com
Milad Forouzandeh was born and raised in Shiraz, Iran. He graduated in 2012 with a BA in graphic design from Shiraz Art Institute of Higher Education, minoring in digital and new media art, where he was also acted as a teachers' asistant. In 2010, he won the title of top young Iranian visual artist. His works have been nominated and selected in biennales and events in U.S.A, China, Turkey and Iran. In 2014, Miald founded the "Dar-Al-Hokoomeh Project" with Mohsen Hazrati, an independent project based in Shiraz with a vision to create a community dedicated to emerging artistic practices, workshops, talks, presentations and exhibitions. In 2016, Milad began lecturing as an assistant professor in his alma mater, teaching Digital Arts courses. In 2017, Milad was invited as one of the guest speakers on the "Mollasadra St" episode of TEDx video series.
Mohsen Hazrati
Shiraz, Iran
mohsenhazrati.com
Mohsen Hazrati graduated in 2012 with a BA in graphic design from Shiraz Art Institute of Higher Education, minoring in new media and digital art, where he was also acted as a teachers' asistant. His works focus on digital culture, new-aesthetic and the integration of these two issues into the Shirazi culture and have been exhibited in The Wrong New Digital Art Biennale, Babycastles Gallery – New York, and Matchbox Gallery – Texas, etc. Since 2013, in collaboration with Milad Forouzande, he has been the co-founder and curator of "Dar-Al-Hokoomeh Project"; a new media art project and activity based in Shiraz,Iran. In 2016, Mohsen began lecturing as an assistant professor in his alma mater, teaching Digital Aesthetics and VFX courses. In 2017, Mohsen was invited as one of the guest speakers on the "Mollasadra St" episode of TEDx video series.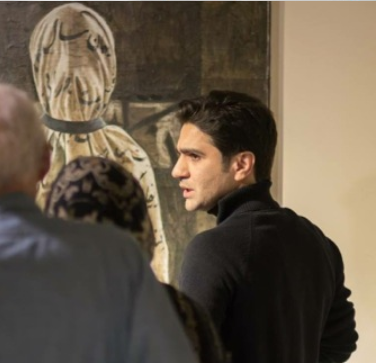 Ali Khadivar
Shiraz, Iran
folderfoundation.com
Ali Khadivar was born in 1985, Tehran, Iran. In 2005, he went to Malaysia on a full scholarship to study Mechanical Engineering at Petronas University of Technology, and HATED EVERY SECOND OF IT. Going through a belated rebellious phase, he started studying Contemporary Music at International College of Music (ICOM) in 2009, where – to his surprise! – he was elected as the head of the student council, and to everyone else's surprise enjoyed pretty high approval ratings. He eventually got fed up with Malaysia's hot and humid climate and returned to Iran in 2013, and a year later found employment with Naranj Art Gallery as their gallery manager, whereupon he quickly learned artists are very tricky to work with. During the same time, he began investing in art and working as an independent art dealer, focusing on Iranian contemporary visual arts. He quickly got bored with the conventional art scene though, and started focusing mostly on supporting and promoting emerging Digital and New Media artists. In 2017, he established the Folder Foundation to that effect.
&nbsp
The NODE head responsible for making this happen:
&nbsp