Digital Skills for Frankfurt!!
Our efforts to create a network for digital media education got rewarded by 'Digital Skills Competition'!
We are very happy to announce that our engagement in creating activities for young people to learn about and take part in the creation of our technological society have been rewarded by Körber-Foundation's competition 'Digital Skills. Learning in regional Networks' as one of the eight most creative concepts out of a total of 40 participating projects!
&nbsp
As a winning project we will receive a funding of 25.000 € and additional guidance from the foundation and experts in the field of education. All the impulses, we will apply to initiate a local network of organizations, educators and activities for young audiences in the field of STEAM with a focus on IT, creative coding and media arts.
&nbsp
&nbsp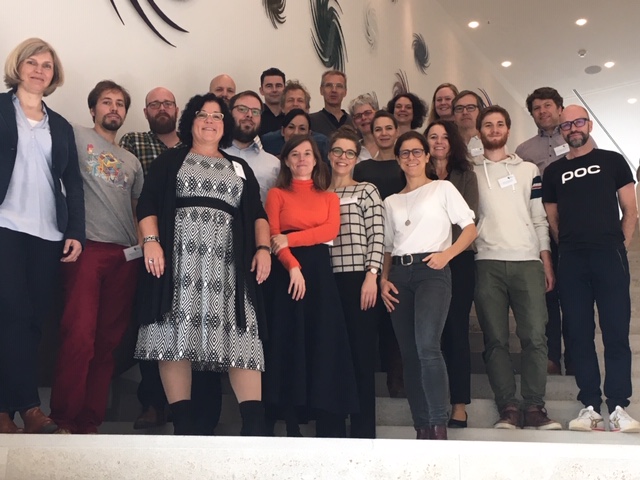 2. Werkstatttreffen "Digital Skills" – The winning teams regularly meet to share knowledge and experiences.
&nbsp
&nbsp
DIGITALE WELTEN started in November 2017 as a media art festival for teens in Frankfurt/Main. The first edition, in cooperation with visionale17, featured three artist workshops, an exhibition and a diverse supporting program, offering teens opportunities to engage with net-political topics, to experiment with digital technologies and thus to become active creators of our digital society.
&nbsp
&nbsp
Since then, we have been able to grow the project into an interdisciplinary network together with Jugend- und Sozialamt/Kommunales Jugendbildungswerk Frankfurt, the Institute for Art Education at Goethe University Frankfurt and experts working in public youth work in Frankfurt.
With this network, we aim at designing engaging opportunities in the field of digital media education, helping to facilitate easy transitions between offers from different initiatives and strengthen synergies between these public facilities. To this end, the network seeks to offer advanced training, organize meetings for professionals from the field and provide various formats for experimenting with technology for teens.
Stay tuned for future Digitale Welten festival editions on our website https://digitale-welten-frankfurt.org, our newsletter…
… and Jugend hack FFM 2019!
Find the German press release here!
Are you a representative of a local organization, an educator or artist and want to become part of the network? Join here!
&nbsp
&nbsp
The network is made possible by us and…
&nbsp
&nbsp
The growing network
&nbsp