Non-profit organization
NODE Verein zur Förderung Digitaler Kultur e.V. was founded in 2010 and is a registered non-profit organization based in Frankfurt. The board today is run by Jeanne Charlotte Vogt and David Brüll. The voluntary organization board as well as the many honorary team members and workshop hosts believe in the spirit of sharing knowledge and exchanging ideas.
Photo: Founder David Brüll thanking Rosi Grillmair for her untiring work at NODE Forum for Digital Arts in 2015, and the vvvv group.
Workshops with creative coders and dancers
Interdisciplinary symposium
How we work
In a network of international partners, the NODE association creates opportunities for open exchange on current developments at the intersection of culture, arts and technology.
We develop formats that focus on education in practical coding methods, we address sociopolitical issues and discuss new challenges for artistic and design practices that come along with the digital transformation of our society.
With more than 60 professional creative coding workshops, an exhibition, performances, mentorship and discourse formats, our main event, the Frankfurt-based biennial festival NODE Forum for Digital Arts, offers room for a focussed week of interdisciplinary exchange. In the course of its 9-year history, the forum has turned into a major meeting point for professionals and students, creative coders, artists and activists from all over the world. Based on the continuous support of the expert vvvv community, we offer workshops to study visual programming and creative coding methods.
Supported by private or public partners, we co-produce artistic projects. With organizations of special expertise (e.g. Motion Bank), we co-initiate think tanks and laboratories. We create opportunities for international exchange and residencies within a network of international partner festivals or with support by the Goethe Institut.
Through formats such as NODE+CODE sessions, we encourage the creation of an ongoing exchange on digital and media arts practices in Frankfurt and the region of Rhine-Main. In collaboration with local universities and cultural organizations, we invite inspirational artists to share their knowledge and challenges with local artists, students and an interested public.
How it's made possible
Despite our great network and the engagement of an incredible team, there is still a need for financial support. While a large share of our program is free of charge, our professional coding workshop program is not. Yet, we are trying to keep the festival ticket prices low to provide educational and inspirational opportunities to as many as possible. You can contribute to making our educational program more accessible and NODE a great experience: become part of a community of the most creative and innovative coders worldwide by finding out if sponsoring NODE is interesting for your organization! Please get in touch with us.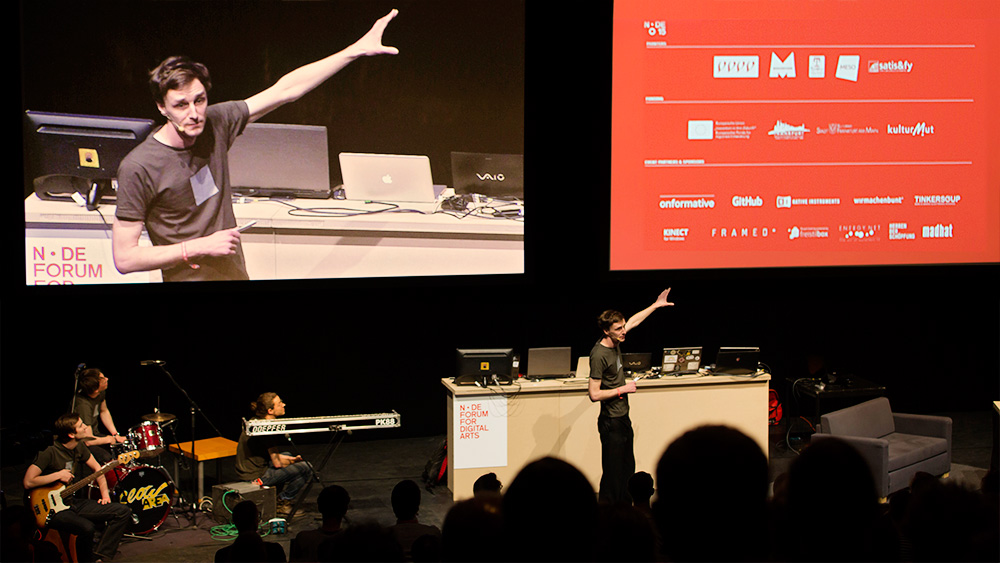 Talks by international artists
Summed up…
NODE Verein zur Förderung Digitaler Kultur e.V. is a registered non-profit organization based in Frankfurt (Main), Germany, founded in 2010. Its main project, the biennial festival NODE Forum for Digital Arts, gathers artists, designers, creative coders and creatives of the digital media scene since 2008. NODE develops different formats (e.g. lectures series, international artist exchanges, workshops…), that facilitate exchange, debate and learning. Working in an extensive network of educational and cultural organizations, NODE aims to foster critical practices within the creative coding scene. NODE seeks to support the creation of an innovative and responsible movement by encouraging new collaboration, interdisciplinary exchange and open knowledge sharing. The main goal of NODE is to empower individuals by encouraging them to experiment, prototype, and develop new things, to ask new questions and eventually provide answers.